I am so excited to feature this book because I loved the beginning of this new series! It's a great new world that is created here and it's got some extremely phenomenal characters to go! So let me show you some goodies!!!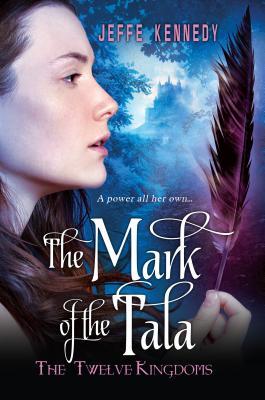 The Mark of the Tala
The Twelve Kingdoms Trilogy
Book One
Jeffe Kennedy
Release Date May 27
Available on Amazon
Book Description:
Queen Of The Unknown
The tales tell of three sisters, daughters of the high king. The eldest, a valiant warrior-woman, heir to the kingdom. The youngest, the sweet beauty with her Prince Charming. No one says much about the middle princess, Andromeda. Andi, the other one.
Andi doesn't mind being invisible. She enjoys the company of her horse more than court, and she has a way of blending into the shadows. Until the day she meets a strange man riding, who keeps company with wolves and ravens, who rules a land of shapeshifters and demons. A country she'd thought was no more than legend–until he claims her as its queen.
In a moment everything changes: Her father, the wise king, becomes a warlord, suspicious and strategic. Whispers call her dead mother a traitor and a witch. Andi doesn't know if her own instincts can be trusted, as visions appear to her and her body begins to rebel.
For Andi, the time to learn her true nature has come. . .
Upcoming books in the trilogy are The Tears of the Rose and The Talon of the Hawk.
My Review
I am so excited!! I found a new series I am going to obsess over!! 🙂 Plus, it's just a very cool book with a fresh new plot line. It was different and unpredictable. I kept thinking one thing and then it would be so the opposite that would happen! I was sucked in from the beginning and couldn't put this one down! And it all comes down to Andi, who was the "other" sister, no one liked or payed attention to. So what happens when that nobody really is somebody and has some serious power and she kept getting underestimated?… She kicks ass, that's what happens! 🙂 
Now Andi is our leading lady, and she comes off timid, and shy, and a little with drawn, at first. And then something crazy happens, she runs into a scary man who says she's his queen and he will find her no matter what. She is losing her mind, and her father, who is like the worst dad in the world ps, is also now losing his when he finds out. Turns out Daddy dearest is not only going back on a big deal he made, he's also willing to use one daughter to keep his own power, even if it kills her. And then Andi begins to grow, and open up, and learn lessons. And she's also not willing for people to die for her, so she takes her own stand. She's quite a brilliant character. I happen to love her, and in the end, I feel horrible for her, and I know her future is going to be really hard, but I know she is going to be ok. 
Rayfe is something HAWT!! He starts out all threatening, and scary, and mean. He totally needed a lesson in manners, and once Andi got her hooks in him, he totally got awesome. He's kind, and gentle, and quite intelligent and very loyal, and has a wonderful man behind all that gruff meanness. 🙂 He can be ruthless but he can be the most wonderful soul as well. I loved the relationship between him and Andi. It's definitely a rocky one, but I look forward to seeing what their future will be and how things will play out. I have seriously high hopes for them. 
Andi's sisters play a vital role as well, and they are important. And the will become more important I think in the next book to come. The ending that directly effected all the sisters had me in so many tears, and it's either going to break them or make them as sisters. They have to maybe work on some of those broken bridges. It's gunna be rough. But there's also The librarian, Rayfe's mother, Andi's crazy ass evil father, and some wonderful other side characters that have so much meaning. The characters really make this whole story, but that's not to say the story was awesome. It's a bumpy ride, but hey, what relationship starts out all smiley face pancakes, right? Flour and mix, and messes are made to get to that yummy finished product 🙂 Me and my food analogies LOL 
The story is sometimes gut wrenching but I found myself completely captivated. I couldn't put it down because every page you turn something else catches you by surprise. The story line is quite unique and I definitely can't wait to see where we will go with Ami, Andi's younger sister, which I think may be the main squeeze for book two. The writing is fantastic, and the world building is beautiful. I felt like I was there, feeling the snow, the sun, the water. Amazing. A well done, seriously fantastic 5 WOLFY PAWS!!! 🙂 Gimme more! please 😉 
Author Guest Post! 
Young, New or Fully Adult?
The Mark of the Tala started out life as a Young Adult (YA) experiment.
One that emphatically disproved my hypothesis that I could maybe write YA. I didn't think I could, but one of my critique partners (CP) wrote YA and thought I should try. She'd switched from Urban Fantasy (UF) to YA and really loved the audience she'd found there. And this story – about a young heroine finding her own power – could fit into the YA tropes.
When I started writing the story, a couple of years ago, New Adult (NA) wasn't really a thing yet.
At any rate, I was only partway into the story and I bought her argument that it could be a YA story. However, as readers of my other books know, I nearly always write sexy. I don't plan that out, by the way. I think sensual interaction is just so much a part of my world view that it comes out in my work that way.
So, she'd coached me that I could write exactly as I always do, but when it came to sex scenes, I should close the curtains.
"Just let them go into the bedroom," she said, "and close the curtains."
Sounds easy, right?
No no no.
Actually I did fine for a good half of the book. Then I got to a particular point. SPOILER: the wedding night!
I messaged my friend after I finished writing it: Dramatic Failure to Close the Curtains.
She wasn't particularly surprised, I think.
The thing was, I even contemplated going back and deleting those scenes. Cuz there were more after that. I could just make them outtakes and close the curtains in the final text. In the end, however, those scenes felt crucial to me on a number of levels. I needed them to show the transition in the characters and their intimate relationship.
When my agent started shopping the book to editors, I more than half expected them to come back and say "Make this YA and take the sex out." After all, that happened to my CP. We thought it was funny – she got to keep all the horrific violence, but not the sweet sexy times scene.
At any rate, my editor never said a word about cutting a thing. In fact, the first thing he told me was "We're calling this Adult Fantasy."
So be it then. 
About the Author:
Jeffe Kennedy is an award-winning author with a writing career that spans decades. Her fantasy BDSM romance, Petals and Thorns, originally published under the pen name Jennifer Paris, has won several reader awards. Sapphire, the first book in the Facets of Passion series, has placed first in multiple romance contests and the follow-up, Platinum, is climbing the charts. Her most recent works include three fiction series: the fantasy romance novels of A Covenant of Thorns, the contemporary BDSM novellas of the Facets of Passion, and the post-apocalyptic vampire erotica of the Blood Currency. 
She is currently working on Master of the Opera and The Twelve Kingdoms, a fantasy trilogy.
Jeffe lives in Santa Fe, with two Maine coon cats, a border collie, plentiful free-range lizards and a Doctor of Oriental Medicine. Jeffe can be found online at her website: JeffeKennedy.com or every Sunday at the popular Word Whores blog.
http://www.jeffekennedy.com/category/blog
https://www.facebook.com/jeffe.kennedy
https://twitter.com/jeffekennedy
A big thanks, first to the publishers who sent me a paperback, and to netgalley, because I requested this there first, lol and it came in handy when I wanted to read ALL the time! And another to the author and Bewitching Book Tours, who always gimme good stuff to read and share! And thanks to you guys for stopping by today and hanging out with us! PS Ms. Kennedy- I may have cried if I didn't get to read those scenes from the wedding night so I totally am really happy you didn't "cut" anything out!! 🙂 Happy reading and later gators!