I love when I get those email requests offering a book up for review. AND I love it even more when I love the book being offered… I TOTALLY LOVE when I get to read both books and do a book birthday release because the author is that awesome!! 🙂 So, Ms. Stewart has been so kind, so I will share in the kindness and show you goodies! And I happen to love dragons so it made it so much more fun!! 
Spark (Hailey Holloway, #1)
Copywriter by day, nerd by night, Hailey Holloway is living the post college dream. Her life may not be flashy and exciting but it's enough for her. After a late night at work, Hailey stumbles upon two dragons brawling in the middle of Philadelphia. In an act of kindness and lapse of sanity, she comforts the dragon who was left behind to die. In doing so she inadvertently invited the soul of Dacea into herself for safe keeping. Hailey just wants to live her life as simply and quietly as possible but with the voice of a disembodied dragon in her head, she has little hope of achieving her goal.Dacea will do anything to be free of Hailey, a human who is moments from checking herself into a psychiatric ward. He is grateful to be alive, but at what cost to his sanity? The dragon world is in upheaval. Green is at war with Red, and he is of no use to anyone while stuck with Hailey.
The solution to their problem is not without its risks. But just how far will Hailey go to be free of the dragon?
Buy Linnks
Barnes and Noble- http://www.barnesandnoble.com/w/spark-kc-stewart/1118847382?ean=2940149361489
My Review
I never know what I'm going to get when I pick up a new book by an author I haven't read. Well this one sealed the deal, I'm a fan!!! A big one 🙂 This is the first book of the series, and holy HAWT fire breathing dragons, I'm all in! I am quite impressed with this book and it's plot and great characters. And let me say outright, just jump into book two asap, because you'll love book one so much! 
Hailey is a normal everyday girl. She has a normal job, some really crappy parents, and funny best friend and co-worker. And then she sees a man being attacked in the park. And BOOM, in her trying to help, she has somehow locked a dragon dude's soul into hers. Well, now she's stuck with him talking in her mind, and trying to find a way to get him out. She cracked me up. She would fight with him, in her head, then forget and talk out loud. It was definitely a crazy ride. And then, she has to keep a watch because the dragon who did this to him still wants to kill him, even if it means killing her. Yeah, there's a lot of crazy happening all at once. Her only flaw, she really needs to learn to stand up for herself, which she eventually does, but confrontation shouldn't be so hard. 
Now Dak, aka Dacea, he's the former king of the red dragons, which is significant. He's got crazy friends that you'll meet, like Darby, the witch. And the Lia the muse pops up. Yeah, it's awesome. But at first, he's a little condescending. He doesn't understand the modern world, he's quite old. And in the process, he changes Hailey, and she changes him.  Plus, Dak has to realize that he isn't the only one he has to worry about now, he's stuck in Hailey, so she's just as important, if not more so, than himself and boy did he get a couple of crash courses with some whip lash! 
I LOVED the secondary characters, including the bad guy Silas. I KNEW something was going on, but I can't tell you. The characters I think are what made the book for me, because I loved them so much, I couldn't have loved the book any less. The plot is a good one, and when you finally get to the end, you're going to have a little bit of a jaw drop and jump for more! Seriously, 5 PAWS, and Dragon CLAWS!! 🙂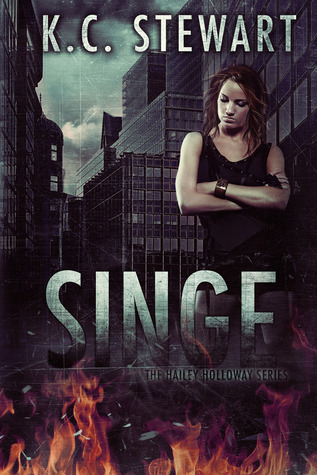 Singe (Hailey Holloway, #2)
Hailey has been taken.She was alive and had a dragon boyfriend with a shiny new body. Life was fantastic. Or it was until she was drugged and pulled right off the street. Hailey finds herself no match for the supernatural world. Will Dak come after her or did their latest battle of arrogance verses stubbornness ruin her chances of rescue?
Dacea has two Mates.
Word of his return was making its way through the dragon world and all the way to his runaway Mate. After hundreds of years of searching and wondering, Katherine was back and making herself at home. Dacea is stretched thin as he looks for Hailey and attempts to keep Katherine from moving in.
Silas has a secret.
His mind is set and he'll tear through whatever gets in his way. With a little more research he hopes to have his suspicions confirmed. And when they are, his discovery will change everything.
I will get you buy links when I can 🙂 
My Review
OK! Well this one gets even better! Because Hailey and Dak solved one problem, now we're on to the next. I am going to try really hard not to spoil anything for you here. OK, so Hailey found a way to help Dak, but now she needs the help. After overcoming her "illness" at the end of book one, she needs to help him get his head out his… yeah that. And in the process, she is kidnapped. Now, we meet some new characters, and I love them too! Silas isn't the biggest baddest guy anymore, someone else from Dak's past is very intent on hurting Hailey. And some from the present are bent on keeping Dak in his place, which is not with the dragons. 
Hailey has grown so very much. She is still a little lacking on confrontations, but she is so much better. She will stand up for herself, and she will find a way to get back up when she's knocked down. She's also becoming great at helping others around her. I can't say much more without telling you actual things and then spoiling it for you. 🙂 
Dak is learning that his way is not always the right way, and women need to be treated kind, not ordered to do things. He'll learn. And then he really gets a nice swift kick in the booty when Hailey gets kidnapped.  He will do anything to find her and get her back. And now, he's got a whole new enemy. 
This one is awesome. We see our favorite characters and meet great new ones.  The plot has just blown the roof off and now with this new threat  I can't wait to see where we'll get to go!! GIMME GIMME BOOK THREE, like right now! pretty please. 5 PAWS, 5 Dragon CLAWS, 5 everything! Well done!! 🙂 
About the Author
Giveaway!
Dear nice followers, this is the first time I've ever done a rafflecopter myself, so forgive me if I screwed it up LOL! But, the lovely author has offered this for you guys:
2 winners will receive both Spark and Singe! and a third winner will win a $5.00 gift card.
And tomorrow, she is having a release day party here–> https://www.facebook.com/events/349391078547682/ with lots of giveaways!! 
Go leave a comment to start and then enter!! You'll want these, I promise 🙂 Good luck everyone!! 
THANK YOU A TON Ms KC!! I so do hope we can continue for book three! I loved these so much! 
Happy reading and later gators!!