Diabolical Taste
Diabolical Taste is the sequel to The Secret Eater, and is the second in the Kenssie series.
Book details
Ebook release date: 30th September 2014
Paperback release date: 15th October 2014
Author: Ros Jackson
Cover artist: Laura Hollingsworth
ISBN: 9780957573239 (ePub)
ISBN: 9780957573246 (Paperback)
Length: 54,000 words
The blurb
Kenssie just wants her fellow demons to respect her. A little hero worship now and then wouldn't go amiss either. But as the lowly thrall of Rak, an embarrassment demon, she'll take whatever crumbs she's offered.
When the demon council turns against her master, Rak and Kenssie are forced to relocate to the countryside. It seems Rak has been holding out against his thrall and keeping a secret that will shake her trust in him forever.
When someone from Rak's past returns to claim him, Kenssie has to fight for much more than his attention. The lives of innocents and not-so-innocents are on the line. How much of herself is she willing to sacrifice for someone else's happiness?
Where to buy it
Amazon UK     Amazon US     Amazon Canada  ITunes     Barnes & Noble  Kobo     Smashwords
My Review
you can find my review here>>
Book One: The Secret Eater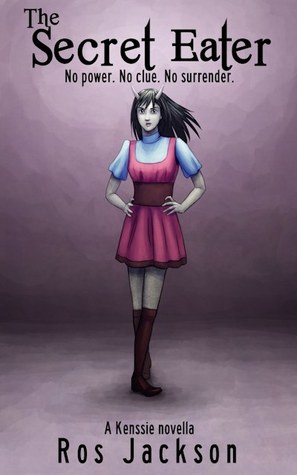 Kenssie is a demon who feeds from secrets. Lately pickings have been slim, and she has grown so weak that her shield of invisibility is slipping. As the servant of a demon who eats embarrassment she already feels like she's the laughing stock of the demonic world. But the scorn of someone who thinks that Hawaiian shirts are the height of cool is the least of her worries.
A powerful fear demon is dead set on making her his slave, a position that carries seriously short life expectancy.
She has no friends.
No powers.
No clue.
Her only hope of escaping a life of terror lies in stealing a grimoire she's never seen from the clutches of a vindictive group of master demons.
About the Author

Ros Jackson
twitter username  warpcoresf
Thanks Ms Ros for letting me read your fun books!!! 🙂 I hope you guys check these out! Happy reading and later gators!