Hello everyone. So, here's my last week's worth of updates with lots of goodies to show you and many giveaways still available
:)

Have a great rest of your weekend and a wonderful upcoming Thanksgiving!
Monday, November 17, 2014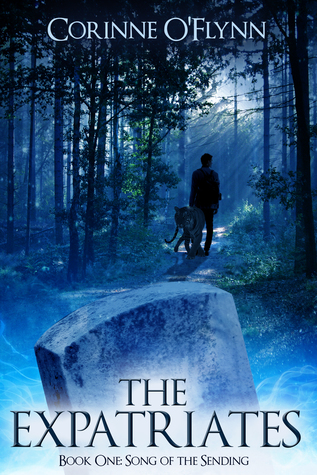 The Expatriates #1 by Corinne O'Flynn
(Song of the Sending)
Publication date: October 15th 2014
Genres: Fantasy, Young Adult
Synopsis
:
They told him his world was destroyed.
And they were the last to escape.
They thought he was safe.
They were wrong.
Jim Wales can communicate with animals, but that's not why he lives with a traveling carnival. Turns out his family's been hiding him there since he was little, since someone started hunting all the scholars. Jim is a scholar—someone who can manipulate energy using magic—and he has no idea.
When a message arrives from Jim's father—who supposedly died twelve years ago—Jim's whereabouts are discovered, their carnival is attacked, and his mother is kidnapped. On the run with a strange glass map and a single coin, Jim finds himself racing to reclaim the father he thought he'd lost, plotting to save his mother, and discovering the truth about who he is.
But going home isn't the same as being safe, and trust is everything.
What readers are saying:
"Told in a beautiful, flowing style full of colorful images and adrenaline-pumping action."
"Pop some popcorn, sit back … and enjoy the thrill ride, right up to the end, which leaves you begging for more."
"Captures your attention from the start and then guides you through a roller coaster of adventure, drama, mystery, magic and young love."
Purchase:
I have two reviews for you today with releases, so let me show you some goodies
:)
Title: 
This Weakness For You (Taming the Pack, #2)
Author: 
Wendy Sparrow
Genre: 
Paranormal Romance
Length: 
348 pages
Release Date: 
November 2014
ISBN: 
978-1-63375-136-1
Imprint: 
Select Otherworld
She's exactly what he wants to sink his teeth into…
Jordan Hill is his pack's Alpha. The Big Bad Wolf. And after his last breakup, he's opting to be the lone wolf, too. But then his rival's little sister—a human, of all creatures—comes to his door. And suddenly, what should be a tasty little snack turns out to be something more than Jordan could ever imagine…
Christa Hansen is simply looking for a place to stay. Yet the dark shifter smells irresistibly like forever. But getting involved with the wolf who tried to kill her brother—twice—is lunacy. Besides, in the unforgiving, shadowed world of shifters, there is no room for weakness. And falling for her family's enemy won't just be her downfall…it will be his, too.
Title: 
Temporal Shift (Dark Desires #4)
Author: 
Nina Croft
Genre: 
Sci-Fi Romance
Length: 
354 pages
Release Date: 
November 17, 2014
ISBN: 
978-1-62266-120-6
Imprint: 
Select Otherworld
Pricing varies by country and can change without notice. Please confirm pricing and availability with your retailer before downloading.
Caught between destiny and desire…
After diving into a black hole in search of the source of Meridian, the key to immortality, the crew of the Blood Hunter finds themselves stranded in an alternate universe.
Engineer Devlin Stark doesn't want immortality. He just wants to live long enough to get his revenge on the man who murdered his brother. Now, he's trapped in a strange world with a crazy woman who claims he's fated to be her lover.
Saffira Lourdes has a destiny: to save humanity and lead her exiled people to the Promised Land. Haunted by visions of the past and future, she's been sustained through the years by a dream lover. Unfortunately, Devlin doesn't believe in fate. But it's obvious there's a connection between them, one that will soon be tested by the limits of time and space. Saffira is about to make the crew of the Blood Hunter an offer they'll find impossible to refuse.
They're heading back to Earth, and they're going back in time…
Tuesday, November 18, 2014
this one is a great start to a new series, which I am currently reading! and an author interview.
Braving Fate
The Mythean Arcana
Book 1
Linsey Hall
Genre: Paranormal Romance
Publisher: Bonnie Doon Press
ISBN: 978-1-942085-00-3
ASIN: B00O27QLAU
Number of pages: 273
Word Count: 80K
Cover Artist: Damonza
Book Description:
As chaos looms, a warrior queen is reborn
Bookish academic Diana Laughton has been having terrible dreams. Dreams of battle, dreams of blood… dreams so vivid she's living them day and night. When demons invade her quiet life, she wonders if she's going mad. Or if perhaps she's remembering a past life she had no idea existed…
In the midst of betrayal, he must protect her
Mythean Guardian Cadan Trinovante loved and betrayed Britain's warrior queen Boudica two millennia ago. Now he's tasked with protecting mortals whose lives affect the fate of humanity. His latest assignment is Boudica herself, reincarnated as a woman with no idea of her past or her fated future. Though in the irresistible form of Diana Laughton, it's possible Cadan has once again met his match…
To succumb to seduction could prove fatal
Thrown together in a shadowy world that exists alongside our own, Diana and Cadan must fight not only the demonic forces that want Diana dead, but a past and a passion that have lasted centuries. Their desire could be deadly. But as evil from the underworld unites against them, their only hope could be each other.
Wednesday, November 19, 2014
Title:  Burdin of Choice (Beasts of Burdin #2)
Author:  Alexander Nader
Publisher:  J. Taylor Publishing
Release Date:  November 10, 2014
Keywords:  Urban Fantasy
Blurb:  Ty Burdin is back. Back to drinking and back to avoiding demons. He is, of course, the leading expert in his field. In both subjects.
That's probably why, when a customer offers him way too much money just to locate a missing car and some mysterious cargo, he readily agrees. The dude is human after all—Ty's prime target client base.
Along with the money comes a slew of disappearances which Ty tries to ignore while tracking down that car, because, of course, those missing people might be demon related, and as he's said before, that's agency business. Not his. Period.
Until today.
Ty Burdin is to back drinking as well as everything he vowed never to get involved with again.
Question is, which one will kill him first? The booze, the demons, or the Agency?
So this is one of my new favorite books. It's so good and there's a giveaway with me review :)
Unholy Creations
Thursday, November 20, 2014
 I love this book!! It's awesome, so I had to share it
;)

there's a giveaway and a sale and a freebie offer, so definitely check this one out! Oh and some very pretty pictures of a dream cast which I totally love who she picked!!
Friday, November 21, 2014